Fettle Studio / Tessellating Collection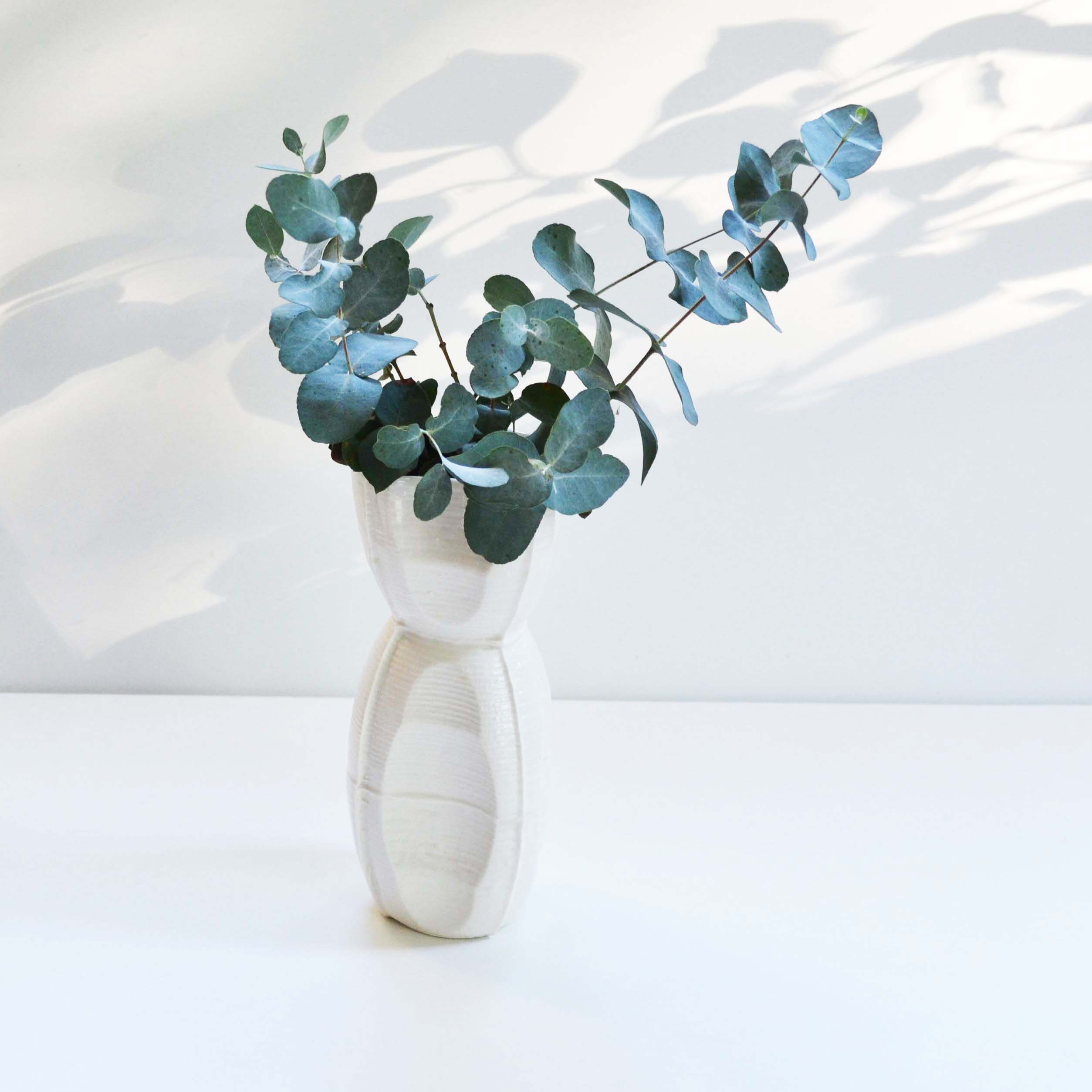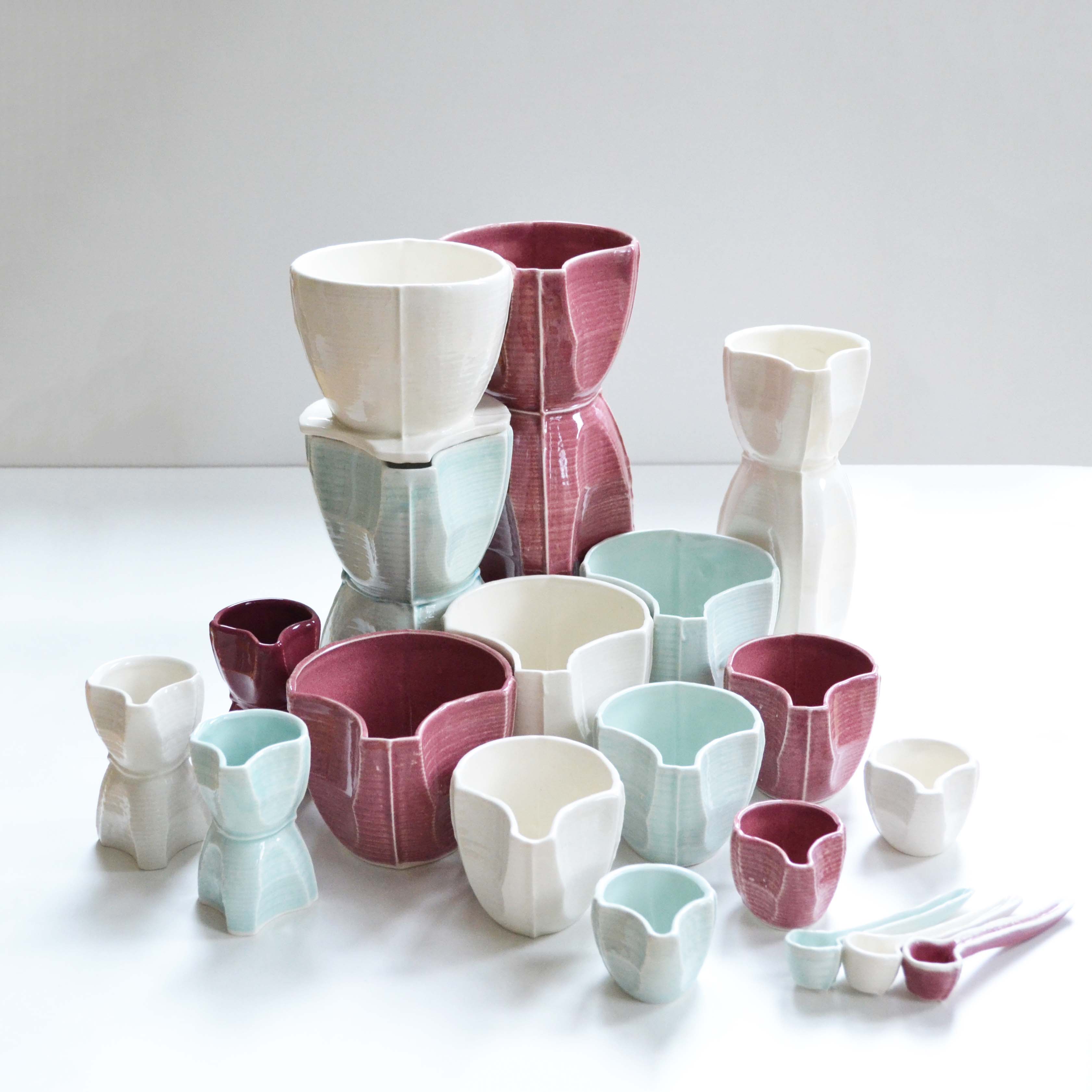 Inspired by geometric patterns and architectural forms, this collection began with the idea of a single porcelain cup - a tactile, functional item of daily use - which can also tessellate with others to form spectacular arrangements and displays. This collection has grown, both in scale to include large and mini versions of the cup, and in height, to include pourers and vases, for the complete table set.
The collection has been personally designed and made by Lydia at her studio in London. Each piece is slip-cast into modular plaster moulds to create the family of objects. They are each glazed and fired to 1240 degrees, and are suitable for the dishwasher. Like all handle-less cups, care must be taken with hot liquids at first - the cups are also used for wine, water, as pinch pots for seasoning, pourers for sauces or milk, or as candle holders or pot planters!
Each of the sizes tessellate together to create decorative patterns, as a triad, quad or circle, or as a larger grid. They take up much less space by stacking and fitting within each other. Have a play!
A curated selection from the collection might include:
- A pair each of large, small and mini cups, which fit inside each other
- A set of four small tessellating cups
- A small vase used as a carafe, with cups for wine or water on the table
- A pair of small cups, mini pourer and mini cup for coffee, milk and sugar
- Two mini cups for salt and pepper, or even as egg cups
The Tessellating Collection has been exhibited as part of Lydia's co-curated exhibition
Hand Held to Super Scale, Building with Ceramics
at the Building Centre in 2019/20, and at
Thrown Gallery
in 2018, and is available to view and purchase in person from a number of London
stockists
.
Scroll down to buy directly from Fettle Studio's online!
In exhibition at 'Hand Held to Super Scale: Building with Ceramics'
Photograph by Chris Jackson
Available colours (left to right): Aqua Green, Burgandy Pink, Clear White, Cobalt Blue
Shop Collection Online:

Tessellating Cups


Mini Cup: Size: 4cm(h) x 5cm(w) x 6cm(l). Approx volume: 30ml
Perfect as a pinch pot for salt / pepper / sugar, or as pourer for milk & sauces .
Small Cup: Size: 6cm(h) x 8cm(w) x 9cm(l). Approx volume: 160ml
Great for tea or coffee, milk pourer, or a candle! (Care - cup will heat with hot liquids)
Large Cup: Size: 8cm(h) x 10cm(w) x 12cm(l). Approx volume: 300ml
A big huggable mug for frothy hot chocolate, a tin of soup, morning cereal, or a bottle of beer! Also great as planters or candle holders.
Tessellating Pourers

Mini Pourer: Size: 8cm(h) x 5cm(w) x 6cm(l). Approx volume: 60ml
Very sweet in a set with mini cup & vase, and multiples of itself.
Small Pourer: Size: 12cm(h) x 8cm(w) x 9cm(l). Approx volume: 300ml
Fits with other small pieces, great in a set. Also as a small vase.
Large Pourer: Size: 16cm(h) x 10cm(w) x 12cm(l). Approx volume: 800ml
Great as a sculptural vase with a sturdy base and narrow waist.
Tessellating Vases

Mini Vase: Size: 12cm(h) x 5cm(w) x 6cm(l). Approx volume: 120ml
Beautiful single stem vase, or in a set with the mini cup and pourer.
Small Vase: Size: 18cm(h) x 8cm(w) x 8cm(l). Approx volume: 450ml
Can also be used as a carafe for water in a set with small cups.
Large Vase: Size: 24cm(h) x 10cm(w) x 12cm(l). Approx volume: 1200ml
A beautifully elegant vase with a slender neck and wide top.
Information & Delivery
Every piece is glazed textured porcelain, and is handmade with individual surface character, so may vary slightly from the photographs shown.
Please note: Porcelain cups can get hot quickly. Like any handleless cup, please wait until the contents has cooled slightly before handling and consuming! We are currently designing saucers to accompany the cups.
These items are made to order. Please allow 4-6 weeks for your order to be made and delivered. Some limited stock is available to purchase in person from Lydia - please check
news and events page
for upcoming markets and current stockists. You can also
contact
Lydia directly if you would like to enquire about stock which might be available for speedy delivery.
Our packaging uses recycled cardboard and reused bubble wrap. You will receive an email notification when your order has been placed, and another when your order has been shipped. Please also read our
Care Advice & General Conditions