News

Shortlisted for the Antepavilion Competition!
5 entries chosen out of 200 for the interview stage, to design and construct an experimental structure on a rooftop site in Haggerston. Read about the shortlisted on the
Architects Journal
and the
Architecture Foundation
websites.
Grown and Thrown
Freshly made Fettle Pots are being delivered to DIY Art Shop for the Grown and Thrown Event - get a plant and a pot in one place, and spruce up your house before Spring!
Facade Tile Samples Complete
For Penoyre & Prasad's Learning and Teaching Centre at Brunel University. These tiles have been developed over many weeks in collaboration with P&P and likely manufacturers, NBK Terracotta.
Independent Ceramics & DIY Art Market


2nd February 2019
11 - 6pm, £1 entry
Unit 8, 133 Copeland Park, Peckham, SE15 3SN
Fettle Studio in Vogue!

Support Independent Makers this Christmas, by buying from them directly, via their chosen stockists, and by crediting their work!
You will find Lydia's ceramics via her
Online Shop
and via shops and galleries - see her
Stockists
listed.
See the
Vogue article here
, and find Lydia's early work in Turning Earth's online
gallery of makers
at the E2 studio.
15th December 2018
Clay Collective Open Studio!!


Please come and visit us for a cosy, intimate look at our studio, where all the magic happens!

No big crowds, just a tailored choice of high quality handmade ceramics by independent makers, on hand to meet and greet.

Lots of sale items before Christmas!
15th December 2018
Fettle at Netil

A special selection of Fettle Studio ceramics will be available from the Clay Collective stand at Netil House Market on the 15th December.

8th and 9th December 2018
DIY Art Market and
Independent Ceramics Market
at Rich Mix, Shoreditch


Come and find some affordable Fettle Studio seconds, alongside many other artisan makers and craftspeople!




The Oasis Pop Up Shop, by Artisan & Fox
63, Hanbury St, Spitalfields, 1 Dec - 21 Dec
Made slow, to last long — this is an ethos shared by all the artisan initiatives gathering in the
#TheOasisXmasPopup
throughout December. We're excited to join this extraordinary lineup of craft brands from across the globe.
From Asia to Africa, from the old city of Kabul to metropolis London, The Oasis is a gathering of some of our world's most extraordinary contemporary craftsmanship. The store celebrates craftsmanship of new and old, be it artisan techniques with centuries of history, or innovative mechanisms by modern-day makers.
Your one-stop shop for ethical, sustainable and transparent Xmas gifts. Find us in-stores at 63 Hanbury Street, E1 5JP at London Spitalfields. From 1 Dec - 21 Dec, 10AM-7PM daily.
The Little Shop Christmas Pop Up!
101, Stoke Newington High Street
Come and support
The Little Shop in Bristol
... in London!
Fettle Studio has delivered a collection of beautiful works for sale at the Little Shop's pop up on Stoke Newington High Street.
Open 6 days a week, open til 7pm, through till Christmas.
24th & 25th November 2018
Turning Earth Xmas Market!

After a year's hiatus, Turning Earth's popular East London ceramics studios are once again opening their doors to the public over two major Winter Market events with over 150 makers, plus live music and food.

Fettle Studio will be selling at the Hoxton Studio on 24/25 November!!
Grymsdyke Farm Workshops


Lydia has been involved with Grymsdyke Farm for over 6 years now, and this year has begun running slip casting and digital fabrication workshops with students of architecture.

Architecture schools include: University of Pennsylvania as part of the AA visiting programme, and the Bartlett.
Fettle Studio's Online Shop

The shop is now open! Gradually filling up with the expanding Tessellating Collection, including more colour options, plus other works such as Fettle Pots.
Visit the shop here.
From coffee cups to water jugs, this tableware set is both functional and playful, with each set of slip-cast ceramic pieces tessellating together in geometric patterns, and nesting inside each other.
Fettle Studio's proposals for refurbishment and extension of this local community asset have been submitted for Planning. The decision is due in November, and work on site expected to start late 2019.
View the project here.
September 25th 2018
Archipreneurialists Talk
Lydia was invited to speak at RIBA South East London Architects' event, '
Archipreneurialists
', to share how she has developed as a ceramicist, alongside her career in architecture.
Thanks to everyone who attended the event at the RIBA Forum. Some great conversations had afterwards, and great to meet new people.
September 2018
Sudbury submitted for Planning
Planning submission is ready for first major Fettle Studio project!
Sudbury Neighbourhood Centre
refurbishment and extension is a very worthwhile project which will make a substantial difference to many people's daily lives in the local community. Featuring full internal reconfiguration of the existing facilities, a new welcoming entrance and cafe, and a beautiful timber framed garden room.
Fettle Studio have been very happy to act as Design Lead for this long standing client, with Camberwell & Metropolitan as Project Lead and Planning Consultant.
August 2018
Fettle Studio is shortlisted for the V&A's Door to Design workshops

The V&A were looking for an artist to design and run 10 workshops with KS2 students, inspired by the architecture of the new courtyard and extension, culminating in a Family Day and Exhibition at the Sackler Centre in Summer 2019.

Lydia's proposal for clay workshops, inspired by the textures and geometries of the V&A, working from small scale 2D mosaics, up to large 3D tessellating collaborative artworks, reached interview stage and was highly commended.
July 2018
Lydia joins the Clay Collective
As of July 2018, Lydia is one of the twelve members of the Clay Collective, based in Hackney Downs Studios. The group is running Beginner Clay Workshops through July and August - be sure to sign up quickly before they sell out!
Visit
www.clay-collective.com
to find out more!
11th May to the 6th June 2018
Fettle Studio in Exhibition!
An exciting moment in Fettle's first year - Lydia's full Tessellating Cups collection, plus Manhattan Dishes and Tableware, will be on display at
Thrown Contemporary
gallery for the month. This includes some very special wall hung pieces, that bring together the varied glazes and interlocking form of tessellating cups to create continuous arrays of colour, depth and light, to stand back and enjoy.
18th March 2018
Ceramics Market, Barbican Conservatory
Lydia will take her Fettle Studio wares to an exciting exhibition and market at the Barbican Conservatory in London, as part of Barbican Open Fest!
https://www.barbican.org.uk/whats-on/2018/event/barbican-openfest-markets
January 2018
Fettle Studio launched!
2018 sees the establishment of Lydia's new professional outlet for her ceramics and small-scale architectural works, ahead of some exciting new projects coming this year!
October 2017
Lydia fully qualifies as an Architect!
During her time at Mæ, Lydia has been really happy to be a key member of the
Grahame Park Regeneration
team, the largest project in the office, developing a strategy for 2000+ homes in Barnet, and detailing design and full planning application for 1000 of them. This project, plus
Brentford Lock West Phase 2
, comprised her extensive Case Study for Part III at University of Westminster.
October 2016
RIBA Life of Clay Exhibition
My early ceramics work is being shown as part of an exciting exhibition at the Royal Institute of British Architects, open 18th October to 27th November, alongside many other fascinating experiments and fabrications in clay by other professional makers and students of
Grymsdyke Farm
.
https://www.architecture.com/WhatsOn/October2016/LifeofClay.aspx
September 2016
Autumn Sale at Turning Earth
Another great Turning Earth Sale! Thanks for all the attention given to my tessellating cups, wobble pots and hand built bowls and plates. Spot my little stall in the middle there!!
June 2016
Summer Sale at Turning Earth
(photo by Arthur Rummel)
Christmas 2015
Please join us for our Winter Sale
My first market with
Turning Earth Ceramics
Studio!!
5th and 6th December, just off Kingsland Road in Hoxton, with nearly 50 makers selling their beautiful handmade wares. We are part of
Small Business Saturday
!!
We also have mulled wine, music, food, and lots of festive spirit!!
Spring 2015
Ceramics Start Up
As a new studio member of
Turning Earth Ceramics
, experimentation and production in slip cast stoneware has begun once again in earnest!
December 2014
Foxglove Street completed
Final completion photographs taken. The project has now been built out and finished internally, with the construction managed by the client. Property to be sold with planning permission for the rear extension.
November 2014
Part of the Grymsdyke Farm Community
Lydia is part of the Grymsdyke Community, showcasing the use of the farm's workshops and facilities in her Master of Architecture Part 2 projects, and embracing the creative and collaborative nature of working and living at the farm.
See the website here
www.grymsdykefarm.com
October 2014 Hexacones featured in 'Garden Sculptures' article.
See the article here.
The team project
Hexacones
, designed, created and assembled at Grymsdyke Farm, has been featured as part of an article by online design magazine 'Homify'.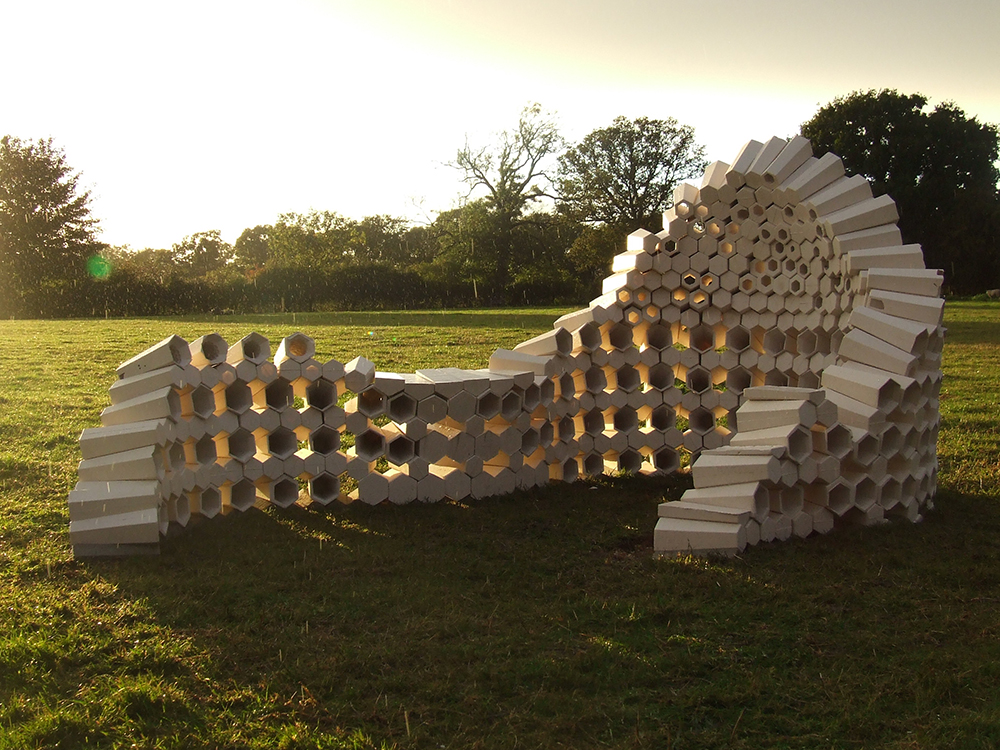 September 2014
On Site Accounts: Farfield Cottage and the Alcan Site Regeneration, Complete
A short tour of Somerset visiting now completed projects from my time at Nash Partnership: firstly, the modest and delicately treated stone extension of Farfield Cottage, internally balancing the rustic charm of characterful features like exposed oak beams, painted stonework and deeply punched windows, with the light, contemporary feel of a stylish, functional home, with internal glazed openings, large sliding doors to the garden, and well organised kitchen complete with Belfast sink, open shelving and Smeg fridge.
Secondly the regeneration of the Alcan Factory site was a pleasant surprise without prominent visibility of excessive value engineering. The scheme provides 170 new dwellings as part of a future-proofed layout providing parks, community center, central avenue and mews courtyards, influenced by and linking into the existing area. It was a pleasure to see dwellings being lived in; neighbours chatting over garden walls (really!), homeowners tending their young front gardens, the occasional plant pot enjoying a south-facing balcony, a comfy chair positioned in an upper floor bay window, children chasing each other in the paved parking courts, overlooked by residents from their kitchen windows in the surrounding flats, and the live/work units in use by a number of small independent businesses. Let the construction continue at the lower end of the site, whilst the trees on the avenue grow necessarily taller, and we will judge again next year.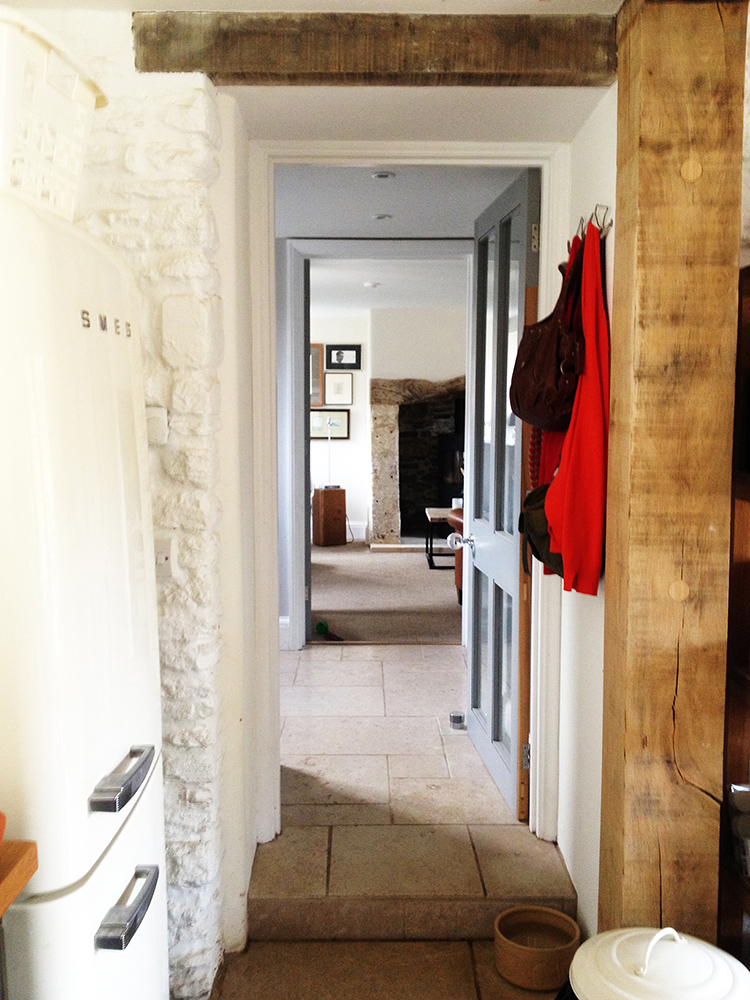 August 2014
Back on the Farm
Working at Grymsdyke Farm, assisting and supervising Bartlett GAD students in the fabrication of full scale structural models for their final projects. From the creation, firing, glazing and installation of clay polygon tiles on a Catalan-style shell structure, to the assembly of laser cut fabric formwork to create a triangulated concrete structure to stand 2m tall.
August 2014
Grymsdyke Farm in the Guardian
The
Banquet Pavilion
and
Hexacones
receive minor mentions, as well as the ground breaking work of recyclable, programmable formwork through the development of clay robotics:
'The place has seen groups of students come and go, taking part in communal workshops that have an ad hoc, collective feel, with a faint air of the rural revels of Victorian arts and crafts guilds. "Food is really important," grins Lee, walking into the walled kitchen garden where students built a 60-person banqueting table last year, barbecue pits cast into its concrete top – and a space to spit-roast a hog in the middle. Elsewhere on the farm there is a catenary arch of handmade clay bricks, dug up from the field, and a wall-size origami metal screen, as well as what was once a curious honeycomb-igloo of hexagonal plaster tiles, now an even stranger ruin, destroyed by inquisitive sheep.'
July 2014
Part 2 Master of Architecture
Graduated in June 2014 from University of Westminster, with Distinction
June 2014
The Manhattan Tea House
project
Featured in BD magazine online, June 2014,
'Student Shows, University of Westminster'
June 2014
Louisa Guinness Exhibition Stand
constructed
A collaboration with set designer and prop stylist,
Sam Barbic
.
The exhibition stand features at
Design Miami/Basel
through June, and is later expected to appear at
PAD London
.
April 2014
Launch of the
Refurbished Southwark Pensioners Centre
As sole designer of the refurbishment works to
Southwark Pensioners Centre
, the launch of the updated facility was a proud afternoon. With a complete internal redecoration, new flooring, furniture and fittings, the feedback from the community was exceptionally positive and thankful, as were comments from the local MPs and trustees in attendance.
As a charity organisation, Southwark Pensioners Centre is a crucial part of many people's lives in the neighbourhood, always busy with activites, events and classes, and provides a much needed support system and friendship to local over 50s. To be able to help such a large number of people with a refreshed facility, through creative collaboration and simple but complimentary design ideas, has been a very fulfilling and rewarding process. Personally managed and realised over only a matter of months, the centre is now able to support the people and activites the charity is aiming for, in a productive and efficient manner, within a more comfortable, enlivened and pleasurable environment.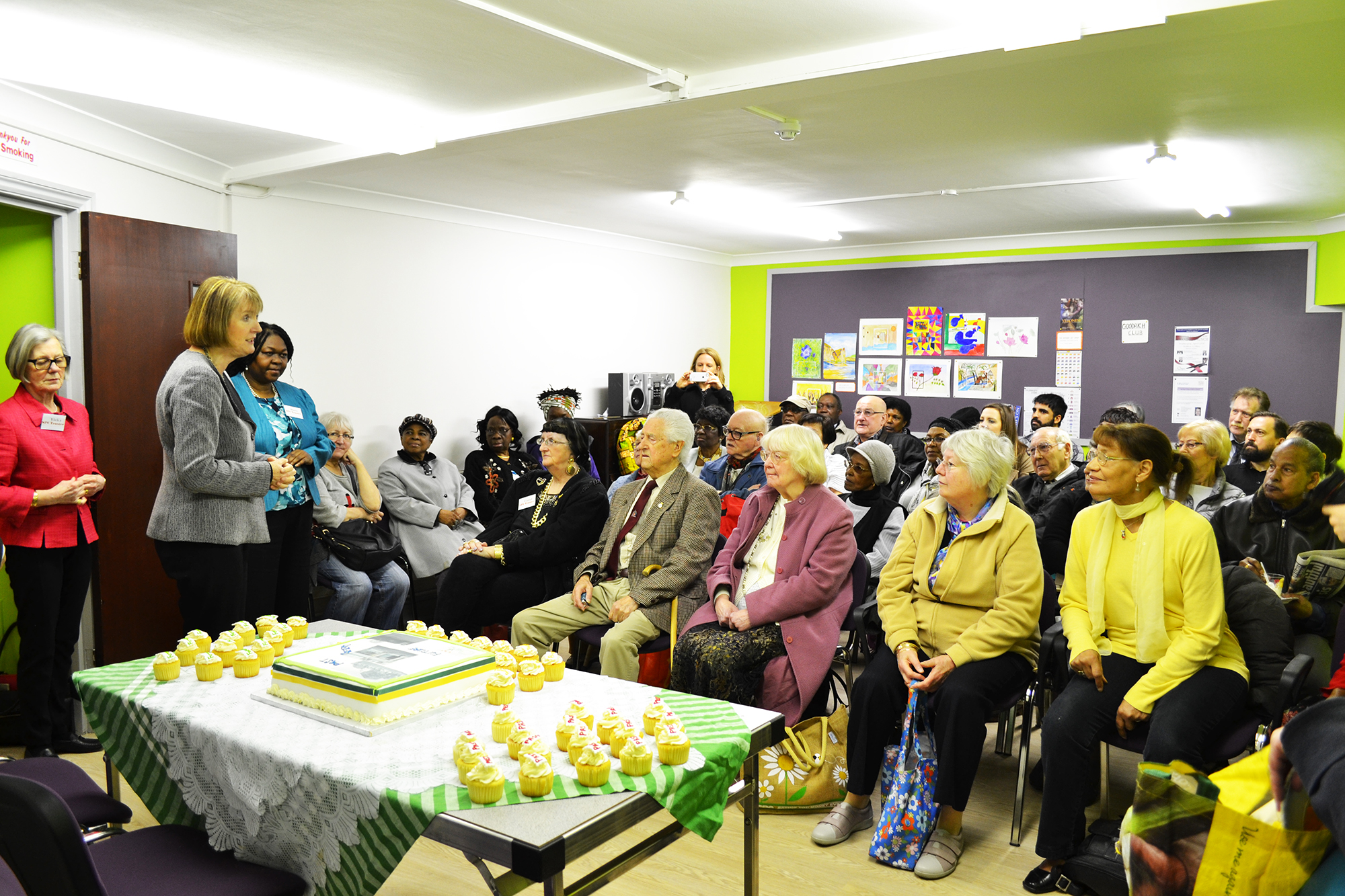 © 2019 Fettle Studio
Fettle Studio is the trading name for Fettle Studio Limited, a private limited company registered in England and Wales, no. 11369583