Fettle Studio / About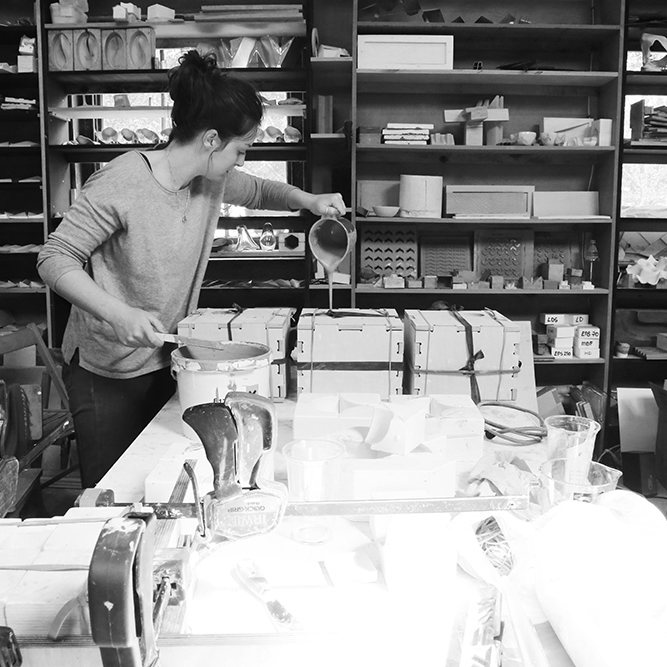 fettle
noun
ˈfɛt(ə)l condition. Eg. To be in 'fine fettle'
verb
trim or clean the rough edges of a piece of pottery (or a metal casting) before firing.
Architect Lydia Johnson established Fettle Studio in 2018 to pursue her two passions: architecture and ceramics. Her work varies in scale, from homes, workspace and community projects, to tableware, lighting and public art commissions.

Lydia works closely with each of her clients, carefully listening to their brief, challenges and ambitions for the project. She uses her knowledge and understanding of good spatial design and construction from her years in practice, to create thoughtful, enjoyable, well crafted proposals, which bring delight and ease to the people who use them.

Lydia has extensive experience in housing design, urban regeneration and refurbishments for community and arts uses. Originally from the New Forest, she achieved a First Class Honours degree in Architecture and Planning at UWE Bristol, before gaining early experience at practices Cube Design and Nash Partnership where she focused on school design, masterplanning and heritage private residential projects. Following her Masters at University of Westminster, she spent 4 years at Mae Architects, the creators of the London Housing Design Guide, specialising in social housing, infill developments and urban regeneration. As a Project Architect, she then joined Citizens Design Bureau and led a number of community, arts and workspace projects, most notably the refurbishment and extension of Studio 3 Arts in Barking.

Lydia's interest and skills in design and making extend beyond architecture and placemaking, to interiors and homewares. At her artist studio with the

Clay Collective

, she creates slip-cast and handbuilt ceramics which are both functional and architectural, inspired by geometry and modularity. In 2019/20, she co-curated a major exhibition with the

Building Centre

, entitled

Hand Held to Super Scale: Building wth Ceramics

, which featured her own work alongside other master makers and architects, including renowned artists Grayson Perry, Kate Malone and others.

Lydia has been a tutor and visiting lecturer for a number of architecture schools, including London Metropolitan University in 2017-18 where she taught Unit 5 with Mae Architects, the London School of Architecture, and The Bartlett UCL, most recently as a BioID thesis tutor researching porous ceramics through 2020. She regularly collaborates with

Grymsdyke Farm

, an architectural and material research facility in the Chilterns, running workshops and prototyping new work.
Lydia's approach at Fettle Studio is underpinned by delight and imagination. From designing for complex sites and challenging briefs, to developing inventive products and tactile artworks: Lydia relishes each opportunity and brings positivity and personality to any task. For life at Fettle Studio, flexibility and balance is key: balancing home and studio, work and play, design and making - celebrating big ideas and fostering small moments. If you have a project you would like to discuss, please feel free to get in touch.