Fettle Studio / Fletcher Lane, Leyton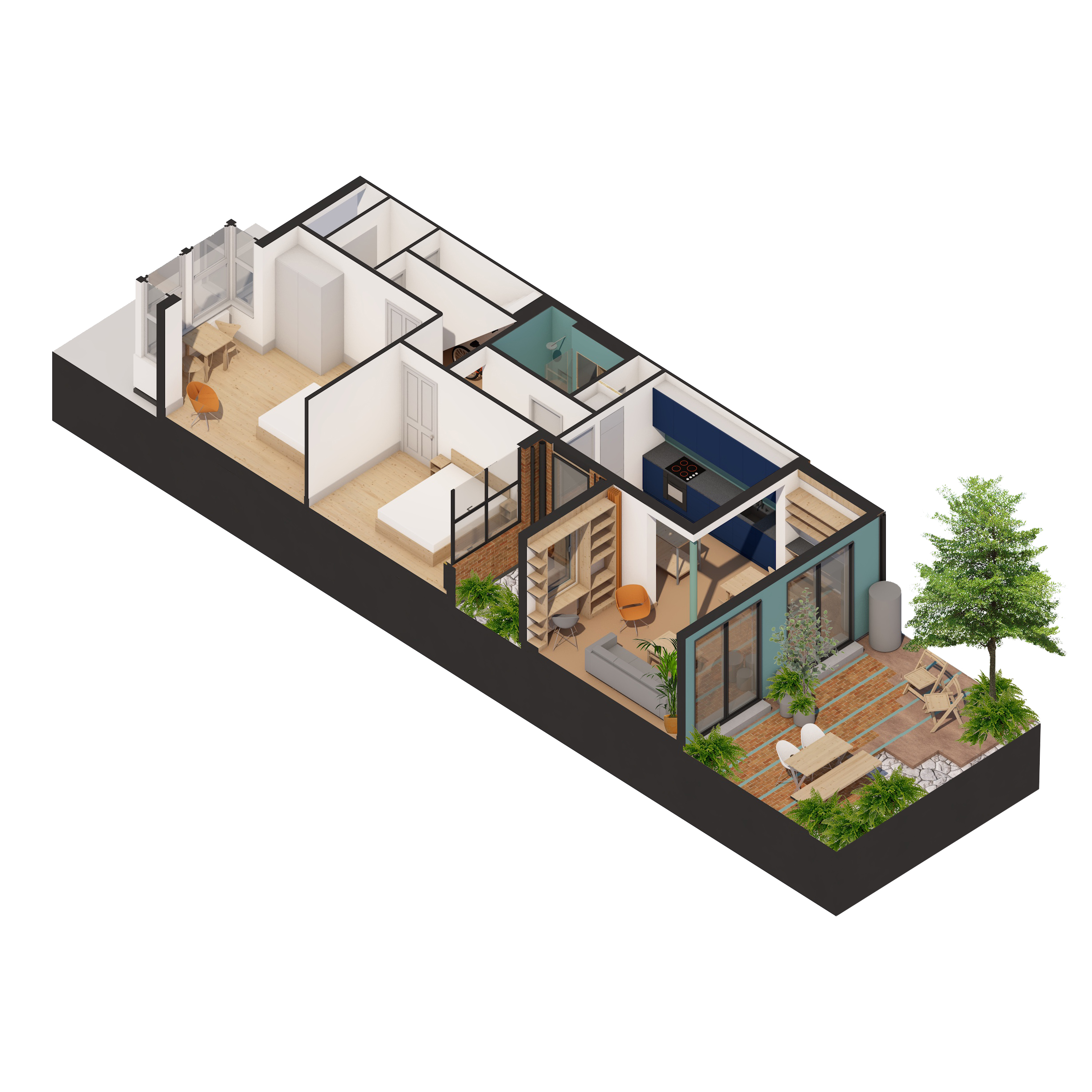 Extension and refurbishment of a ground floor flat in a traditional Edwardian terraced house in Leyton, London, for an artist-architect couple.

The project is carefully designed to add an extra bedroom within this small property, whilst creating a large open plan living space with great light and connections to the south-facing garden.

The project utilises simple, healthy and sustainable construction methods, crafted with natural, colourful and handmade materials including timber frame, ceramic and cork, to reflect the client's creativity and create a warm, vibrant and unique family home.




In the original layout, the bathroom was located at the rear of the property, blocking all views, light and warmth from the south facing garden, with the kitchen tucked in the dark middle zone - a very common ailment of these types of properties!
The reworked layout swapped the bathroom to the middle of the plan - discrete, efficient, and closer to the bedrooms. The kitchen was pushed to the rear and extended to include dining and living areas, with two large glazed double doors opening to the garden. The two rooms in the existing house both became bedrooms, with generous proportions and original features celebrated in their refurbishment. An external plant-filled lightwell provides good daylight, privacy and ventilation to the back bedroom, and captures a glimpse of the new ceramic-clad extension.
With combined traits as architects and ceramic artist, the client has taken a very personal approach to this project, in handmaking the ceramic cladding and kitchen splashback for the project. The design of the tiles features long elegant proportions, with a 3d rounded profile to bring gentle shifts in light and shadow to the elevations.

Externally, the teal-glazed ceramic cladding is paired with fine, dark grey aluminium windows and rainwater goods, and reclaimed london stock brickwork, which reintroduces the gritty character of the existing building into the paving of the new courtyard garden.

Internally, a palette of teal and navy blues in the kitchen is balanced with natural cork flooring and rich orangey furnishings and fine black ironmongery & lighting details.
The project received Planning Approval in April 2020 and the build started on site in May 2021, due for completion August 2021.

As the client, architect and project manager, Fettle Studio has enjoyed worked very effectively and collaboratively with the close-knit team that has been personally coordinated for this project - builders, tradespeople, structural engineer, partywall surveyor and approved building inspector, as well as managing external involvement from planners, freeholder surveyors and neighbours - a careful balance which has been vital to the running of this build!

The client will be personally completing the project by installing the finishes and fittings - watch this space (and @fettlestudio instagram) to see the final character of the project revealed throughout the year.

Client & Architects: Lydia Johnson & Dan Ruddick
Photography by Dan Ruddick